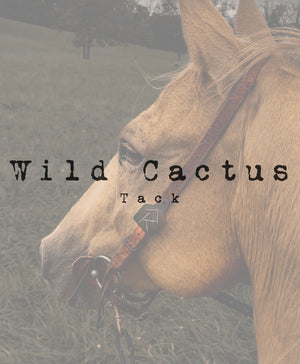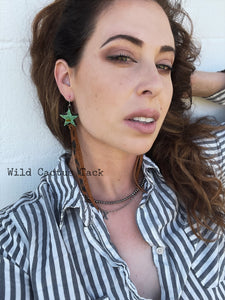 Meet the Maker
Fueled by her love for both horses and art, Sabrina Kramer found herself in the best of both worlds, creating and designing horse tack. Through leather she was able to craft never before seen horse tack, earrings and many other leather goods.

After serving 12 years active duty in the United States Army and with only one year of self taught leather work, Sabrina made the life changing decision to step away from a promising career and follow her passion designing stunning and unique tack for the western community, thus creating Wild Cactus Tack & Leather.

Three years later her pieces can be found in various magazines, on the horses of some of the best barrel racers in the world and in the tack rooms and arenas of some the most amazing clients you could ever ask for.

Sabrina continues to develop herself as an artist and push the limits of art and tack and now offers handcrafted buckles, conches and other metal goods all made here in the shop along side her leatherwork.

In the heart of Farming Country Sabrina resides in the state of Indiana with her husband and 3 children. If she isn't in the shop, you can always find her at a barrel race.